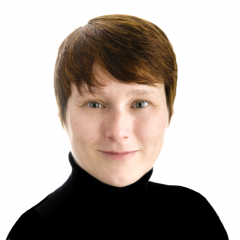 Aurélie Pols designs Data Privacy best practices: documenting data flows in order to limit Privacy backlashes, minimising risk related to ever increasing data uses while solving for data quality. The most accurate label today would probably be "Privacy Engineer".
She spent the past 15 years optimising (digital) data-based decision-making processes. This allowed her to co-found and successfully sell her first start-up in Belgium to UK agency Digitas LBi (Publicis). She is used to following the money to optimise data trails; now she follows the data to minimise increasing compliance and Privacy risks while touching upon security best practices and ethical data uses. Her mantra is "Data is the new Electricity, Privacy is the new Green, Trust is the new Currency".
Aurélie has spoken at various events such as SXSW, Strata + Hadoop World, the IAPP's Data Protection Congress, CPDP, Webit, eMetrics summits, and written several white papers on Data Privacy and Privacy engineering best practices. Her experience and network has allowed her to discuss growing data set-ups and requirements as well as their risk, compliance and ethical angles in Europe, the US and Asia.
She leads her own consultancy with data privacy projects all around the world, is part of the European Data Protection Supervisor's (EDPS) Ethics Advisory Group (EAG) and served as Data Governance and Privacy Advocate for leading Data Management Platform (DMP) Krux Digital Inc., prior to its acquisition by Salesforce. She has been teaching Privacy and Ethics at IE Business School in Madrid for the past 4 years in their Big Data & Business Analytics Master and supports DPO training courses for Maastricht University, faculty of law. In terms of volunteering, she co-chairs the IEEE's P7002 - Data Privacy Process standard initiative and served as a training advisor to the IAPP, the International Association of Privacy Professionals.